Elina Magaly Santana, Esq. is a Shareholder and Co-founder of Santana Rodriguez Law, P.A.  She is licensed in the state of Florida, the U.S. District Court Southern District of Florida, and the U.S. Court of Appeals for the Eleventh Circuit.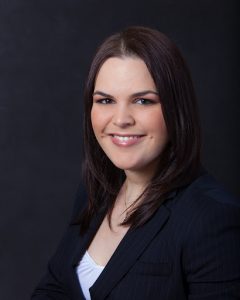 PRACTICE AREA
Attorney Santana is the firm's lead Immigration Law Practitioner.  She focuses her practice on representing foreign clients in affirmative petitions with U.S. Citizenship & Immigration Services ("USCIS"), as well as providing direct representation at interviews and in deportation proceedings before the U.S. Immigration Courts.  She handles Family-based and Marriage-based Residency, Naturalization, Deportation Defense (including Asylum, Cancellation of Removal, and Waivers), and all sorts of Appeals for previously denied cases.  Attorney Santana has also represented many detained clients in bond proceedings and reasonable/credible fear interviews. Furthermore, Attorney Santana has successfully argued for Stays of Deportation for clients with humanitarian reasons why they cannot return to their countries.
She is dedicated to representing the immigrant community nationwide and travels often for her clients' cases.  She has represented clients in courts nationwide, including Miami, FL; Orlando, FL; Hartford, CT; New York, NY; Buffalo, NY; Charlotte, NC; San Antonio, TX; Harlingen, TX; Atlanta, GA; Cleveland, OH; San Francisco, CA; Newark, NJ; Philadelphia, PA; and Kansas City, MO, among others.
EDUCATION
Attorney Santana earned her Juris Doctor from Boston University School of Law, where she served as an editor for the Public Interest Law Journal. She earned her Bachelor's degree in both Sociology and Spanish Literature at New York University with high honors. She is fluent in English and Spanish, and loves to travel throughout the world.
Attorney Santana also had the honor of serving as a judicial intern at the U.S. District Court for the Southern District of Florida under the supervision of the Honorable William C. Turnoff in Miami, Florida.
COMMUNITY INVOLVEMENT
Attorney Santana volunteers in the local South Florida community by accepting pro bono cases through several local organizations.  She also previously volunteered with the South Texas Pro Bono Asylum Representation Project ("ProBAR") in Harlingen, Texas, where she worked with detained and previously abused children seeking Special Immigrant Juvenile visas.
PROFESSIONAL ORGANIZATIONS
Attorney Santana is an elected member of the American Immigration Lawyers Association ("AILA") South Florida Board of Directors.  She is also the CLE Chair for AILA South Florida, and simultaneously sits on the Distance Learning Committee for AILA National.  She is an active BNI member and BNI Regional Director, Consultant.  She is also a member of the Cuban American Bar Association ("CABA"), the Hispanic National Bar Association ("HNBA"), the Miami-Dade County Bar Association ("MDCBA"), American Bar Association ("ABA"), and the Women's Chamber of Commerce ("WCC").
NATIONALITY
Attorney Santana is a U.S. Citizen born in Miami, Florida.  She is the child of Cuban Immigrants who immigrated in the late 1960s and early 1970s.  As such, her personal connection to the plight of immigrant families is a personal one. She previously lived in New York, New York, Boston, Massachusetts, and briefly in Madrid, Spain.